"I Do Like to Be Beside the Seaside" Join Haunting Nights as we travel to the north west Lancashire seaside town of Blackpool to investigate some of the town`s Most Haunted locations before we start our Ghost Hunts & Interactive Ghost Walks in Blackpool. The team have worked really hard to make sure we get a great ghost hunt & interactive ghost walks for Blackpool here are some of the places we have looked into.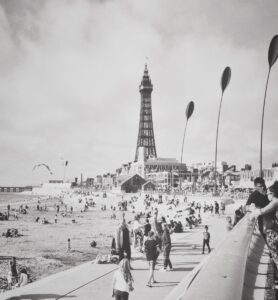 Blackpool has been a special place for a whole generation of people here in the UK . Everyone has a memory of being on the promenade eating ice cream and having a paddle BUT behind the candy floss & donkey rides Blackpool has its very own dark past and many scary and haunted locations with strange happenings occurring .Haunting Nights take a closer look into this seaside towns most haunted ghost stories.
The Old Frenchman`s Cove) is in the South King Street premises which once housed Duckworth's Tobacco warehouse. Reports from the owner have included that workmen building in the cellar have thought that someone or something have been watching them. The owner got sent a letter with an article and photograph from the time the warehouse was built, this revealed that the ghost in question  is a young girl and has been seen by people  a number of times, she is said to have died within the building . Even now late at night different staff members  feel that someone or something is keeping an eye on them. The sound of footsteps have been heard many times & the smell of smoke has been reported.
The Manchester) Blackpool may owe its early reputation for healing the sick in mind and body to the priests who took refuge in the isolated building of 'the Foxhall' in the 17th century. The original building was far from grand. It was a long, low three-gabled residence which resembled a farmhouse. Its three storeys each had 4-5 rooms with low ceilings. The ground floor also included a private chapel. There was a small lead tower on top of the house gained from within by a staircase and the thick walls contained many hiding places (priest's holes) and secret passages. Over the years this house turned into a hotel and public house. Many spirits over the years have been seen that have ranged from priests, smugglers and aristocracy.
Blackpool Pleasure Beach) has not one but several ghosts that reside in the world famous amusement park. If you dare visit the Ghost Train itself where the footsteps of Cloggy, a former ride operator who always wore clogs, have been heard. The Ice Rink claims to have several 'spooks', various things have been seen backstage in the dressing rooms, perhaps previous show skaters of years gone by. Late at night staff members hear someone or something skating on the ice, when they have gone to look, nothing was there. Lights and equipment move on their own accord and doors have been wide open when they have been closed with padlocks. Reports of  cold spots that chill you  to the bone and an "awful"dark presence along with the sighting of a tall man have been seen on many occasions.
The Winter Gardens) Since the Winter Gardens opened in 1878, millions of people have crossed its threshold as guests, performers and speakers; dining and dancing in its sumptuous rooms and treading the boards of the Opera House theatre.
Rumour has it there are lots of spirits wandering through the extensive complex, including a man in a bowler hat. The Opera House is reported to be one of the most haunted parts of the venue. It first opened in 1889, then was closed in 1910 for rebuilding works. In 1911 it was reopened only to be demolished 27 years later and rebuilt again. The third theatre, which we know and love today, opened in 1939 and features one of the largest stages in Europe, with a capacity for 2813 guests over three levels. But not everything, or everyone disappeared when the previous versions were demolished – for example the old projectionist who is said to be lingering in the original projector room many more stories have been reported here and will probably need a blog all of its own.