Published:
February 11th 2022
Somerset, with such mystical places as Glastonbury Tor, is a county where mystery abounds and history is writ large across its beautiful landscape of green fields, rolling hills, dramatic gorges sleepy.
Join Haunting Nights as we visit the county Most Haunted ready for our Somerset Interactive Ghost Walks and Ghost Hunts to start
Indeed, such is its timeless allure that may of those who have called this county home over the centuries seem loathe to leave and return to haunt many of its houses, castles, inns & taverns.
Glastonbury Abbey is the home to a number of ghostly monks. Many visitors to the abbey have reported hearing low chanting, while others have reported seeing a fleeting glimpse of a robed figure who quickly disappear in front of their eyes . One visitor has even captured one of the monks on camera.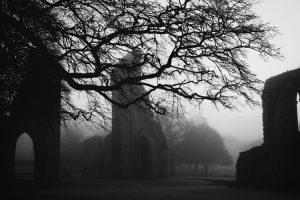 Dunster Castle is an Anglo-Saxon era fortification with a castle has stood there for almost one thousand years. No surprise there are reports of many ghosts said to haunt this location.
Phantom footsteps and a man's voice have been reported many times and there's a lady in grey who is said to be connected with the Luttrell family who owned the property before the National Trust. Skeletons have been found in the cell under the castle including one man who said have been seven feet tall. There's an oppressive dark feeling in many rooms in the place and many dogs refuse to enter certain rooms.
A man in green has been seen around the gift shop and strange green lights are said to appear on the floor then vanish. It also has a weird feeling inside and there's often a weird brown liquid that appears in unopened boxes.
Other ghosts include a Civil War soldier, an elderly man sitting in the butler's chair and a human foot that appeared before one visitor to the castle.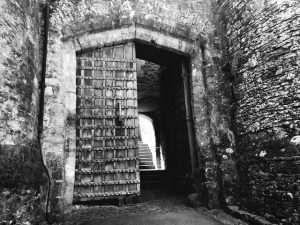 The Battle of Sedgemoor happened on July 6th 1685 and was the last in the Monmouth Rebellion. The government was victorious but Monmouth escaped before being later captured and executed in London.
There were some 1500 men who died at the scene and ghosts of them are commonly witnessed. Soldiers on horses are seen as well as voices while some have said to have seen Monmouth himself, fleeing the battle.
One very sad story is about a young girl who was looking for her lover. He had been executed during the battle aftermath. She drowned herself in the river close by and is seen walking the battlefield as the lady in white.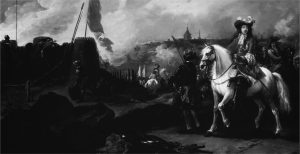 Wookey Hole Caves and Mill
The caves here are said to be home to people for 45,000 years. It includes the Witch of Wookey Hole, a famous human-shaped stalagmite. She was said to have been turned to stone by a monk from Glastonbury but her spirit is said still haunt the caves till this day. Many workers have also seen ghostly children near the mill site as well as a somewhat aggressive poltergeist who is fascinated with the Magical Mirror Maze attraction.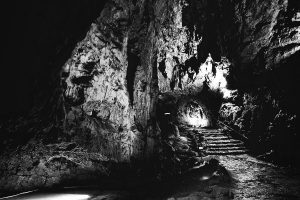 Corfe Castle, Yeovil
Corfe Castle sits on impressive cliffs but is mostly a ruin today. There's a deep moot, walls and strange remains that are confusing to imagine as a whole castle. The original building was created by William the Conqueror but King John made it into a royal castle. It was refortified in the Civil War era by Lady Bankes but she was betrayed and enemy soldiers allowed them in.
There are haunting reports of strange flickering lights on the ramparts and a baby is heard crying in the cottage that sits beside the castle. A headless white lady is seen in the castle gounds, frightening everyone that sees her before slowly vanishing.