Oxford Castle with Haunting Nights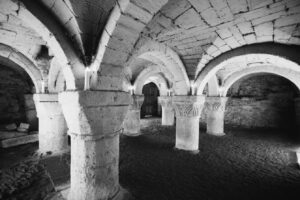 It may be home to one of the UK's best universities, but not all Oxford residents are students—some are ghoulish forms and ghostly apparitions. With lots of strange sightings and paranormal goings on, Oxford is widely believed to be one of the UK's most haunted places.
Oxford Castle is said to be one of the most haunted buildings in the UK. There has been plenty of strange activity reported. One night, as a security guard finished his patrol, his dog stopped, cowered and started growling. Two large shadowy figures then appeared — a few days later, the poor dog died.
Look out for the ghost of Mary Blandy too. She was executed at the castle in 1752 for killing her father. She has since been spotted wandering the Castle Mound, where it's reported she was hung for her crime.
Oxford castle has had its share of dark and ominous history stretching back almost 1000 years. People have been put to death here, it's served as a royal residence for a time, and a county jail. With a dark history that stretches back almost an entire millennia, it's little wonder so many spirits have been witnessed here.
Perhaps the most terrifying report comes from one of the security guards who was on his nightly patrol. The security has long been very wary of the location and had experienced several things before such as unexplained sounds, bangs, and the usual phenomena. However, on one dark night, one of the guards was coming to end of his patrol when his dog stopped and shuffled quickly backwards growling at something in front of him. It was then two large shadow figures appeared before him. As anyone would do, he ran as fast as he could in the opposite direction. A few days later, his dog died suddenly, he believed he had been frightened to death!
The ghostly figure of a woman has been seen walking the Castle Mound many times. The murderer Mary Blandy was executed at the castle in 1752, and its her ghost that people believe to have seen in the area where she would have been hanged.
Sometime in the 1970's, a group was carrying out a seance in one of the cells, when poltergeist activity suddenly erupted. Things got so bad that a priest had to be called to exorcise whatever they had awoken. A white mist has often been reported rising up a flight of stairs only to disappear once it reaches the top, the voice of a man has been heard calling out to visitors close to the cell block What will you find on your Haunting Nights?.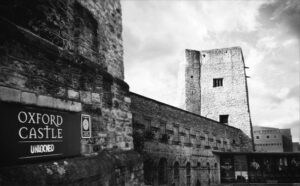 This Norman Medieval Castle on the west edge of Oxford is believed to have been built shortly after the Norman Conquest of England in 1066. Originally the castle was a moated wooden motte and bailey castle built to dominate the town which had taken considerable damage during the Norman Conquest. It was replaced with stone towards the end of the 11th century, is was later an integral part of the conflict of the Anarchy.
During the 14th century, the castle lost its value as a military stronghold, and became the location for all county administration dealings and also detaining prisoners. A vast majority of the castle was damaged during the English Civil War. Later, in the 18th century, the castle has again used a place to detain prisoners, but this time prisoners were only local, not from across the county. In 1785 a new prison complex was built on the grounds of the castle, which was expanded upon in 1876 and was later to become HM Prison Oxford. The prison was closed in 1996 and was later redeveloped as a hotel, now know as Malmaison Oxford.